When you hear about people traveling to India, they usually are going for the cultural and spiritual riches that can be found there. There's nothing wrong with that. India is, indeed, a culturally rich country. However, that does not mean it cannot offer other kinds of unforgettable experiences. If you do a little research, you can find a lot of fun and challenging opportunities as well. So if you decide to go to India, don't forget to put them down on your itinerary.
Raj Mandir Cinema (Jaipur)
If you are a cinema enthusiast, then you are going to love that movie theater. It's spacious enough to accommodate a lot of people. It gets so chaotic at times that you can say there is a huge movie premiere. The seats are comfortable; the interior design is pastel-colored, and the atmosphere is lively. It's more fun than your usual movie night. It's the ideal place to watch one of those Bollywood movies Indians cherish so much. It's ok if you don't like the movie, not everybody does, but you don't go there for the movie. You go there for the experience.
Quick tip: just two minutes away you can get to MI Road, and you'll find several lassi shops there. You'll have the most delicious sweet lassi you have ever tasted in your life.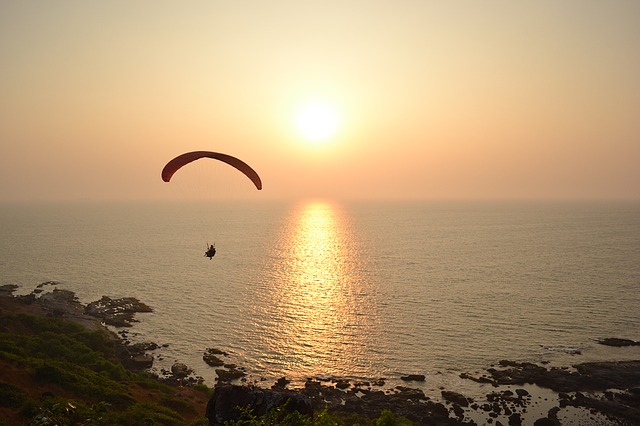 Kinnaur, Lahaul, and Spiti (Himachal Pradesh)
It is also called the 'loop,' and it's only meant for people who like adventure more than anything else. Some people train for months, just because the route is worth it. It starts in Shimla and ends in Manali, but it's what's in between that matters. You'll end up in places that you wouldn't believe existed. You'll be surrounded by mountains with their tops covered in snow; you'll reach villages like Kalpa, Nako, Dhankar, Kaza, and many others. As a bonus, you'll also reach one of the oldest Tibetan temples. I can honestly say that the loop resembles some sort of hidden location in the middle of the mountains. You should take your time and spend about 12-14 days to finish the loop. It will provide the best memories you'll have from India. Nothing will ever top that experience.
Paragliding in Goa
Paragliding hasn't been popular in India until Himachal Pradesh hosted the very first world cup of paragliding. Since then, you can do this wherever it's possible. Goa is not the only paragliding attraction, but it's among the warmest. If you feel up to it, you can paraglide in Bir. You can fly over the deep blue sea and watch the golden beaches. It's a fantastic view. No need to worry about safety, though. You'll have instructors and professional pilots to keep you safe.
These three are just a glimpse of all the fun you can have in India. I don't know why some people avoid this destination. It has a lot to offer, a vacation there is quite affordable, applying for an India e-visa is a piece of cake so getting there is not an issue, and the experiences are simply unforgettable.