If you're thinking about visiting Ireland, it's likely that you'll want to take a road trip at some point. This is a country that was made for driving, with incredible views around every corner, and scenery that looks like a postcard available at a glance outside the car window.
Chill car insurance has recently conducted a survey of 650 Irish people, and it has revealed the country's most dangerous drives. These drives are also some of the most beautiful in the world, so if you're planning to take a road trip in Ireland, it's good to know what to look out for.
Did you know that a huge 34% of drivers in Ireland have had an accident while driving within the past 5 years? This could be in large part to the fact that many Irish drivers are relatively inexperienced, with 20% of drivers only having been driving for less than five years. Compare this to the number of experienced drivers who have been driving for more than 20 years (a tiny 9%), and it's easy to see why you may want to be more cautious than usual if you're driving in Ireland.
For many people, driving in Ireland is difficult for a number of reasons. Firstly, a large portion of the people visiting will be used to driving on the opposite side of the road. And for American drivers, they may not have driven with a stick before- and it's still very common for cars in Ireland to be manual instead of automatic. Combine these challenges with narrow roads and picturesque views waiting to distract drivers (along with many inexperienced drivers on the road) and it's easy to see why drivers should be cautious when visiting the country.
Dublin was voted as the most dangerous country when it comes to driving in Ireland, and it's also a place where some of Ireland's most famous drives can be found.

Here are the three most dangerous drives in Ireland: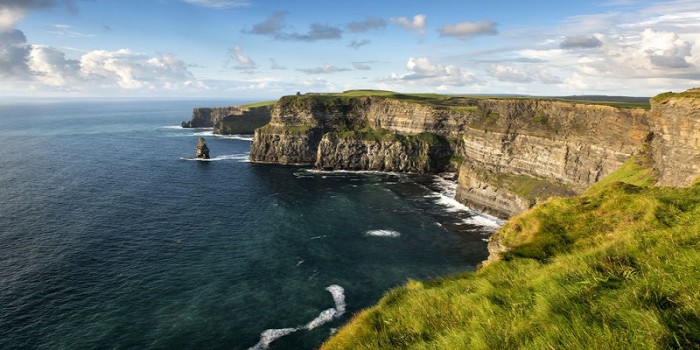 Cliffs of Moher
This was voted as Ireland's most dangerous drive by 19% of those surveyed, and it's a prime photo spot, with cliffs looming more than 200 metres into the air. While this was already a relatively dangerous place to drive, the area has also seen recent landslides and some parts of the cliff are collapsing and unstable.
Old Military Road
You'll find Old Military Road in Wicklow, and this gorgeous drive can easily take a deadly turn. 13% of respondents said that this is the most dangerous road in Ireland, potentially due to the blind spots and windy corners, which mean that you'll need t be constantly looking out for cars coming in the opposite direction.
Recently, bogs have led to sagging of the roads in some parts, so the conditions are relatively rough for driving.
Gap of Dunloe
This drive was just slightly behind Old Military Road in terms of danger, and 11% of people voted it as the most dangerous. This is a narrow mountain pass, looming 731 metres above the sea in Kerry, and since the road can be congested, you'll need to be ready to brake suddenly.