It's no secret that I love Bali! I've spent quite a lot of time exploring beautiful Bali and I've come to find a few favourite destinations while there. Seminyak suits me perfectly; it's relaxed, there's a beach and a lot of great cafes, restaurants and boutique shops.
I think Seminyak is the perfect destination for the more refined traveller – the type of traveller that can spend a day or two in Kuta and is ready to move on. So where to stay when you're in Seminyak?
The Location: 
The Ivory Resort Seminyak has a great location, it is only a few minutes walk from a number of restaurants and cafes. While taxis are very cheap in Bali, I really like being able to walk around as it's a great way to get used to where you are and to get some exercise while you're traveling. Ivory Resort is only a 15 minute walk from the beach. The walk to the beach is lined with heaps of great boutiques and beauty salons, so you might wind up taking a little longer than 15 minutes!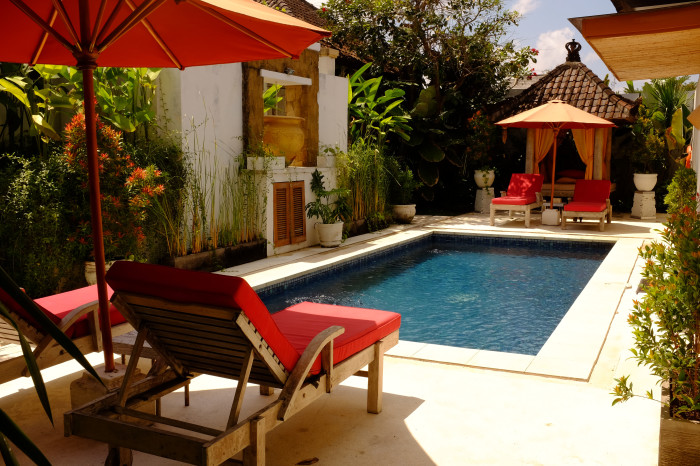 The Facilities: 
The type of facilities you will get will depend a little on the room type you're staying in. I was lucky enough to sample both the a deluxe and private one bedroom villa so was able to sample both. Of course, I much preferred the private one bedroom villa with private pool and giant sun lounger beds. There is also a main pool on site, which is perfect for relaxing and working on your tan. At night time the pool is lit up beautifully and is even nicer to lay by. The resort itself is pretty small, in terms of number of rooms and therefore guests, which makes it feel very intimate.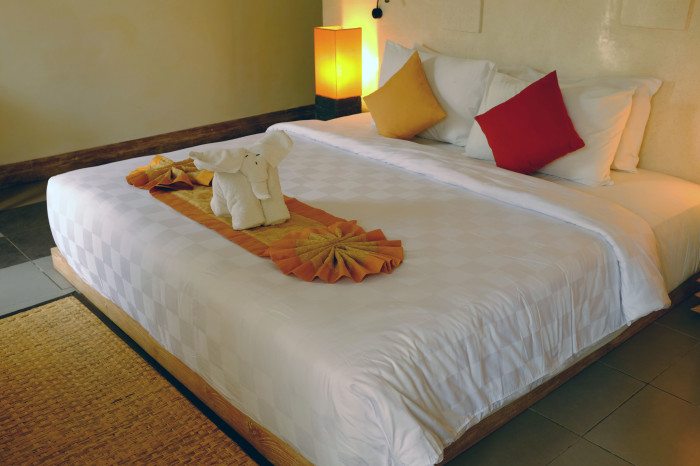 The Deluxe Room:
The room had everything you could possible want for your stay, as well as a beautiful day bed by the entrance that was more than big enough to accommodate two people. I spent a little too long relaxing out here, surrounded by the beautiful greenery. The bed was ultra comfortable and the bathroom was modern and very clean, with a decent pressured shower.
It's no secret that I love spas and so was very keen to try out the spa facilities at Ivory Resort. The spa is located in between the pool and reception, so it's very easy to access. The treatments I received here were of a very high standard – the same as I would expect at home, but with the warm Balinese touch.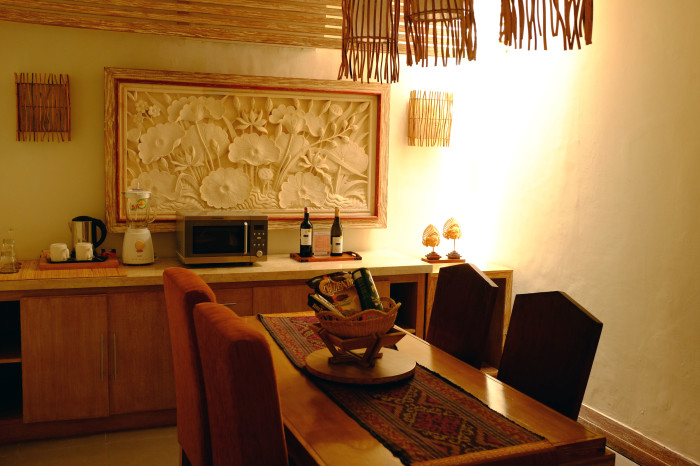 More About the Villas
I especially loved the villa – it felt so luxurious and as someone who works while traveling, I really appreciated the extra space. At 181 M2, there's really ample room and it would perfectly suit a couple or family. I was impressed by the kitchen/dining/lounging area as it had a lot of great facilities and felt more like a home than simply a room in a hotel. Having a private pool also goes a long way if you're like me and not the most confident swimmer! There are actually two villas that share the same large pool, which is fine as we never saw the other guests there during our stay. This would be perfect for a larger family who want to rent the two villas together and have their own private area.
Stay at Ivory Resort Seminyak if you… love exceptional value! The prices of the rooms here are extremely reasonable and comparable to paying for two people to stay in a dorm in a more expensive location, such as Sydney. There's enough space in both the rooms or the villas that you can be very comfortable here, even for a longer stay. The location is great, the staff are bubbly, and the pool is gorgeous by day or night – what more could you want?