A midweek skiing trip to a top class French resort offers a magnificent way of enjoying the snow, but how can skiers truly make the most out of a trip like this? The good news is that there are some interesting and unusual ways of making this the trip of a lifetime.
The following are some of the best tips for having an unforgettable time in the French Alps. Which ones would you never have thought of trying?
Use the Ski Lifts for Exploring Further Afield
If this is your first skiing trip then you may think that the ski lifts are simply to get up to the top of a particular slope in order to ski back down it again. Repeat the process several times and you can have a wonderful time.
However, you can also use your resort's ski lifts to get even more pleasure out of your trip. This is because you can use them to get out and explore further afield simply and very effectively.
Some of the very best French Alps resorts have extensive ski lift networks that let you head out far and wide very comfortably. This will allow you to see far more of the area and enjoy some incredible vistas without wasting too much time on doing it.
Whether you go skiing in these remoter locations or just soak up the sights and take some stunning pictures for future enjoyment is entirely up to you. Either way, it is a smart way of seeing the area around your resort from a different point of view and varying your days.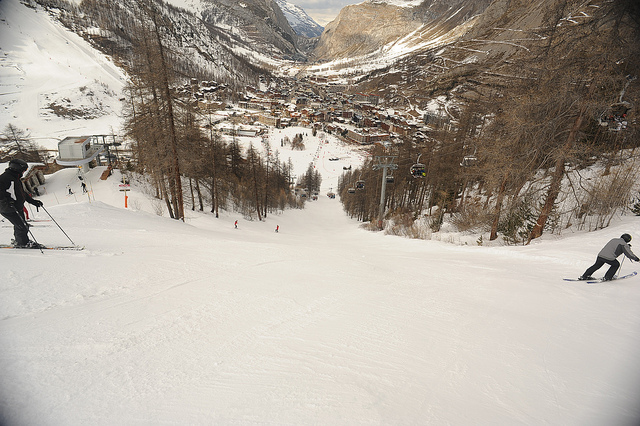 Try Cooking in Your Chalet
For many skiers, one of the great pleasures of a trip to the French Alps is the chance to head out to a restaurant for a memorable meal. There is no doubt that you will want to enjoy this culinary experience at least once during your stay.
Having said that, you may also decide to try out a different sort of meal from time to time. If you are staying in a comfortable alpine chalet then doing some cooking in it is a fantastic idea.
Part of the attraction of doing this is that you get to have a lot of fun shopping for food. Going to local markets and shops for ingredients is tremendous fun and will give you some cool memories to take home with you.
One recommended approach is to take this opportunity to cook some timeless French meals. The easy availability of fresh ingredients makes it a real pleasure to do this in a relaxed way.
Make a Fashion Statement
You don't think that a skiing trip in the French Alps is just about wrapping up in chunky, unfashionable clothing, do you? While you will definitely want to keep warm, this is also a perfect sort of trip for making a fashion statement.
There is some wonderfully high quality skiing gear around and you will feel great when you put some on. In amazing ski towns like Chamonix, Courchevel and Morzine glamorous people love to put on classy clothes for skiing and for après ski.
It is worth taking some time to look for quality clothes that you will enjoy wearing while you are away on a ski trip. Shopping in the fashionable stores and boutiques of your chosen resort is great fun as well.
Try taking a look at the latest ski fashion news and classic ski outfit inspiration before you leave home. This will give you a good idea of what clothes to take away with you to fit in with the current trends or to have a timeless look.
Have a Spa Experience
You might not automatically assume that French ski resorts are good places for a spa break. Yet, it turns out these are brilliant places to head for a bit of pampering when you aren't out on the pistes.
When you go on a fantastic ski trip with the likes of igoski.co.uk then you will be in the perfect, relaxed frame of mind for this kind of treat. The fact that you will be in a good mood and have lots of free time makes this an excellent addition to your ski break.
Some of the finest ski towns in this part of Europe give you the opportunity to take a break for an hour or two in a high quality spa. A stunning trip to the spa could be something that lives long in your memory even after you get home and back to normal life again.
Go Off-Piste
If you are used to skiing in North America then there is every chance that you see off-piste skiing as something wildly dangerous and only for highly experienced skiers. However, in the French Alps going off-piste is a far more normal thing to do.
Sure, you will need to be careful and be aware of how adventurous you can afford to be. You certainly don't want to head out on an off-piste trip on your first ever time skiing.
However, even skiers who have a fairly modest level of experience tend to feel comfortable heading away from the pistes here. You can add a huge amount of thrills to your trip by doing this and feeling the genuine pleasure of skiing in this way.
Try Out Other Exhilarating Sports
Another point that surprises a lot of first time visitors to French Alps towns is that you don't need to just concentrate on the skiing here when you want to get some exercise.  If you want to try out some other exciting sports on a midweek break then you get a lot of pleasure out of that here too.
Winter sports such as snowboarding, snowshoeing and snowmobiling are all interesting possibilities here. If you want to try out something that isn't strictly a winter sport then indoor swimming, paragliding and yoga are among your best options.
Of course, with such impressive and imposing mountains around you, there is also a good chance that you are tempted to try some mountaineering activities as well. All in all, this is the kind of place where you can get your adrenalin pumping in any one of a number of ways.
Love the Local Fondue
It is true that we looked at the question of food earlier on, but there is also the matter of the amazing fondue to consider as well. In parts of the French Alps the local cuisine is called Savoyard and among the classic recipes is a fondue known as fondue savoyarde.
This is a delicious dish that will give you a very memorable culinary experience. Even if you have never been really interested in cheese or fondues before, this is something that you really must try.
In the same way, the local sausages and potato based dishes are just as good as the cheese. If you are looking for an exciting way to take home some extra special memories then settle down with some quality local dishes.
There are numerous interesting ways to make the most out of a ski trip to the French Alps. By trying out all of them you will get a wonderful experience that you will be keen to repeat as soon as possible.