Often overlooked in favour of the long stretches of palm fringed beaches on the east coast, Nungwi village at the very north of the island provides visitors with a feel of the "real Zanzibar".
It is not an either/or situation. A stay on the east coast can be combined with a stay in Nungwi.
Some of the things which makes a stay at Nungwi well worth while include: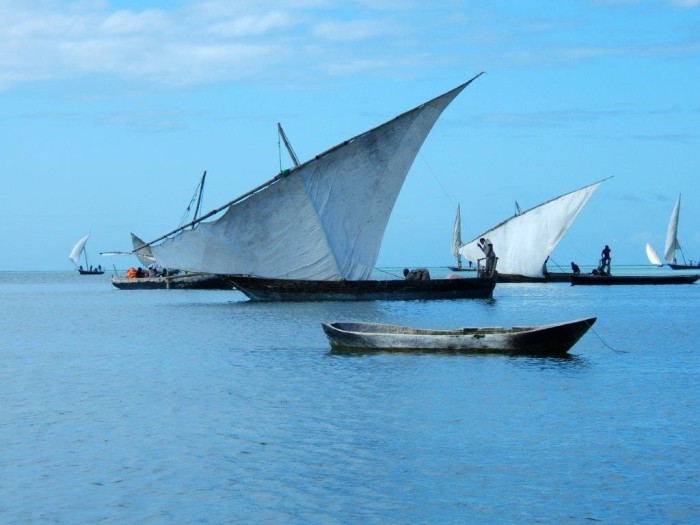 * Witness and interact with local people going about their daily activities.
* See dhows and fishing boats being built and repaired in the same way they have for hundreds of years.
* The spectacle of the fishing fleet heading out, or returning , with the white sails framed by the deep blue ocean is something to behold.
* Take a cultural tour with a local guide to learn what life is like for people of the village.
* Visit the turtle sanctuary. The small entry fee will help preserve the good work being done by this local charity.
* A wide range of marine activities are available.
* Hire bicycles to explore other areas at the north of the island.
* Take an evening cruise as the sun sets like a huge red ball over the mainland of Tanzania. It is a very special sight.
* Have the opportunity to eat at a wide range of restaurants, unlike the east coast where there are
few alternatives but to eat at your hotel. We tend to gravitate back to the Langi Langi Beach Bungalows Restaurant. Good food, great views.
* Well priced accommodation. We favour Flame Tree Cottages with spacious rooms set in lovely gardens on the ocean front. Close enough to walk to the restaurants and bars, but sufficient distance to provide peace and quiet.
Top Tip. Do not arrange any excursions with the "beach boys" touting for business. Always arrange excursions direct with providers, for example, dive centres, boat owners, or through your hotel.
We would like to thank Zanzibar Travel for this insight.