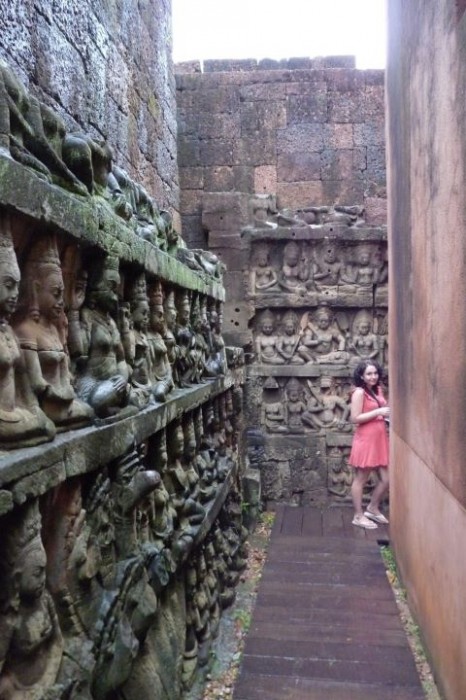 Some people seem to find it pretty strange that I'm so comfortable traveling alone. For me it was a simple equation: I wanted to go places my friends didn't want to go and I wasn't prepared to let that stop me. I thought that I would get lonely traveling alone, but that is so far from the truth. I had to actively take a day to myself here and there, just because I was constantly meeting new people.
On my first trip in South East Asia I met a great group of guys and we traveled together for near on two months. This wouldn't have been possible if I had a rigid itinerary, so I suggest being a bit more flexible if you're exploring on your own. Often it's less about the places you are and more about the people you are with. It was an incredible trip and I'm so glad that I didn't let my initial fears of traveling alone stop me from going. There are tons of benefits to traveling alone: it pushes you outside of your boundaries, it challenges you and it forces you to adapt to new situations all on your own. I firmly believe that everyone should travel solo at some stage during their life, the lessons you learn are invaluable.
Be Twice As Sensible
I have developed a personal rule which is that I wont go out for a night on the town when I'm traveling alone, unless I know the people fairly well or the city well. One night on Koh Phangan (I'm sure many travelers have stories that start out this way…) I made the mistake of drinking a few too many free buckets. I was with a small group people I'd been traveling with for a few days. When you're traveling, time is different. The people you're spending time with are around you constantly, sleeping, eating, everything. So a few days of friendship could feel like months of deep and meaningful conversation and lunch dates.
At point during the night I realised I was really drunk, so told my friends that I was going to to the convenience store to buy some water and to wait for me there. I came back 10 minutes later to find everyone had left. I panicked and walked the length of the beach trying to find them. It was 3am and I didn't confidently know my way back to the accommodation. I tried to walk around the beach, waist deep in water, before realising it was a really bad idea. I tried to walk through the dark, gloomy forest towards our accommodation before I realised that was also a stupid idea. Eventually I made it home, but it was a pretty scary and stressful experience. In the morning my friends were all really apologetic, one of the other girls had gotten really sick and they were worried about her. Just be sensible, you can't expect too much of people you've only just met. So, unless you have someone you can really trust to watch your back, don't drink in an unfamiliar place. It extends further than drinking, too. It's simple things like avoiding arriving in a new, foreign city alone at 11.00pm. You'd probably be fine, but if you've got all your things on you and you're stumbling around to trying to find your hostel, you're really just opening yourself up for potential trouble.  So, just try to minimize it.
Have a Backup Plan
Unfortunately bad stuff happens, even on holiday. The possibility of having your wallet stolen is so much more daunting when you're alone in a foreign country. You need to have some backup plans in order to protect yourself incase something does happen. I would suggest carrying at least two cards with you, one that you keep in you wallet and one that you keep somewhere else safe. Don't take your second card out with you when you go out, keep it tucked away in your room's locker or safe. When I was in rural Indonesia the town I was staying in only had one ATM and my card just didn't work. I had enough cash to carry me through my stay, but when an unexpected medical expense came up I had to pay for a driver to take me to the nearest town, over an hour away, in order to withdraw cash. If I had another card this might not have been an issue. I had similar problems with my eftpos card not working in Calcutta's airport, but thankfully had some reserved  USD that I could change into local currency. Before you even leave for your trip, make sure you make copies of your passport. I even go as far to scan them and email them to myself, so I can always access them. It's better to be safe than sorry.
How to Meet People On The Road 
It's hard to describe this to someone who hasn't been backpacking, but there's this special openness in almost everyone you'll meet. Maybe it's because we've all taken the steps required to explore the world, or maybe because we're united in the fact we're all slightly out of our comfort zone- either way, I think it's much easier to make friends on the road. The most important thing is to go where the type of people you want to make friends with, will be. If you want to meet other backpackers, the easiest way to meet them is to stay in a dorm! The more beds in the room, the more potential friends (though, the more potential snorers, too. But that's an issue for another day). If you want to make friends with locals you can look to stay with someone on Couchsurfing or you can go to more local hangouts. Be approachable and approach others. There's a standard backpackers conversation that starts off like "Where are you from, where are you going…" and while it's sometimes painful to start it again, it's an easy introduction. That dorm mate you spark up a conversation could wind up being your travel buddy for two months.
Be Flexible 
When I think back to my favourite travel memories, most them include my favourite people I've met along the way. Often the company you have is more memorable than the place you're in. Along your travels you're likely to find some people that you just instantly click with and want to spend more time with. If your itinerary is set in stone, it restricts how much time you can spend with them. If your itinerary isn't so rigid and they invite you along to join in for more of their trip, you'll be able to say yes. There's nothing worse than a jam packed time sensitive itinerary getting in the way of epic adventures, so be flexible.