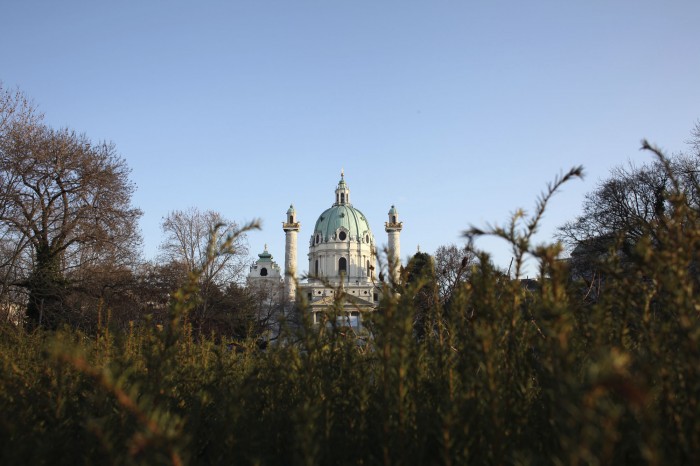 Vienna seems to mix the old with the new, effortlessly. There are enough galleries, museums and trendy cafes to please even the biggest culture seekers. Her German roots are firmly planted: the transport system is clean, fast and efficient and the old buildings are immaculately maintained. Vienna has a lovely assortment of kaffeehaus, which are traditional coffee houses. Locals are very fashionable and love to shop, so if you're looking to get rid of a few euros, Vienna will serve you well.

Costs in Vienna
Accommodation in Vienna isn't particularly cheap especially when compared to some neighbouring countries, however you should find a high standard across the board. For hostels in Vienna expect to pay €10 to €25 per night for a dorm. If you are looking for a private room, expect to pay  from €40 upwards for the room (split that for two people). For a budget hotel you can expect a room in the range of €70 and up.
Food in Vienna is not particularly expensive. Expect to pay around €10-20 for a meal at a decent restaurant. If you shop well it would be possible to get by on €25-35 per week on groceries. For a cheap meal, find a Kebap, traditional Würstlstand (sausage) or an Austrian sandwich (available at supermarkets, for around €1). Vienna has an assortment of some of the most delicious pastries I've seen around the world. They make a delicious and easy breakfast or snack. Bare in mind, many places will charge you just to sit down. Tap water is great in Vienna, so save yourself some cash and refill a bottle.
Transport within Vienna is fantastic – it is one of the best systems I've ever used. There is an integrated transport system, meaning that the same ticket will work on the underground, trams and buses. It is affordable, frequent and clean. It is €0.40 cheaper to buy the ticket in advance, compared to on the bus or tram. If you intend on using public transport more than three times daily, consider investing in a multi pass. An individual ticket will cost € 1.80 when purchase in advance, whereas you can buy a 24 hour pass for €5.70 (48 and 72 hour passes run at €10 and €13.60 respectively). Take tram number 2 for a scenic trip around the centre of Vienna, it's a great way to get your bearings fast.
Things to Do in Vienna
Tiergarten is the oldest zoo in the world, and also one of the most wonderful. There's a gorgeous pavilion in the centre which is a lovely place to enjoy a refreshment during your visit. The zoo houses a wide variety of animals and in 2003 became home to Giant Pandas. At €14 (€6 for children and seniors) it's not the cheapest thing to do in Vienna, but you can stretch it out to a full days entertainment.
Schloss Schönbrunn Gardens are very grand and not far from Vienna's center. Walking around the perfectly maintained grounds you feel as if you could be in the middle of the countryside. While the gardens are still beautiful during the winter, they certainly come alive during the spring and summer. If you have time, it is certainly worth the tour of the Schönbrunn Palace, it is a remarkable building that is decorated elegantly throughout. An imperial tour will set you back €10,20 but I suggest paying the additional €3 for the grand tour, it is worth it.
Museumsquartieris a melting pot of Vienna's culture. There are numerous museums, galleries, cafes, restaurants and bars housed in the former imperial stables. During the warmer months this is the perfect place to people watch or meet new people. You can just come to enjoy the sun and relax, it has a very laid back feeling to it. You can buy combined museum passes with the Kombi pass costing €25 and allowing you entry into all of the museums except zoom and a 30% discount on any performances.