Often I'll meet people and they'll be surprised that I like to travel alone. I rattle off the numerous benefits to solo travel and eventually I'll be asked whether anything bad has happened on my travels. I hesitate, because I worry that by telling this story I'm going to plant the seed of fear and a forest of excuses will flourish. The truth is being stabbed hasn't stopped me from traveling alone, there's actually probably a part of me that feels a little more confident because I've had something terrible happen and it all turned out okay in the end.
This story begins in outside a little town Kuta, in Lombok, Indonesia, but remember that  being stabbed really could've happened anywhere.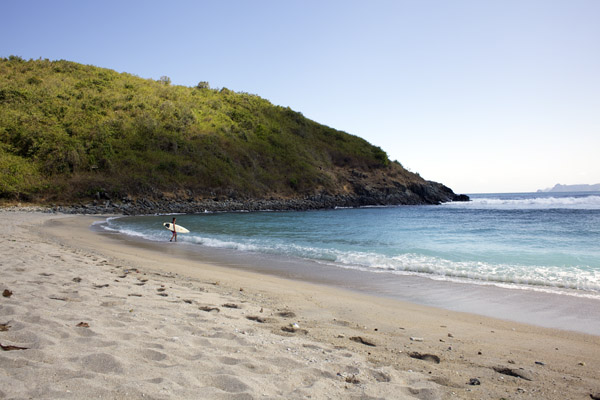 My friend suggested I must visit Mawi beach, so I rented a scooter and braved the rough roads for almost an hour. Along my journey I saw large lizards rush across the road and monkeys cheekily hang from branches. I slowed my bike a little so that I could high five local children as they enthusiastically shouted "hello!". I remember pausing for a moment to take it all in, this is what I'd always wanted from Asia but never managed to find. Eventually I made my way to the beach, which was beautiful and very secluded. There were only a few other tourists around, a couple were surfing and some others were just lounging on the beach, drinking fresh coconuts.

On the way back to Kuta, I stopped often to take photos. While I was on my scooter, less than 10 minutes away from Mawi beach, two men on a scooter pulled up beside me. Originally I wasn't afraid, only minutes before I'd had an entire family drive past smiling and waving as they drove past. These two men didn't smile and moments later the passenger was trying to rip my backpack off my back, while I was still driving. My mind was muffled and somehow I decided that they were trying to steal my scooter, which I thought to be annoying, but not the end of the world as I had travel insurance. I slowed down, left the keys in and backed away from the scooter.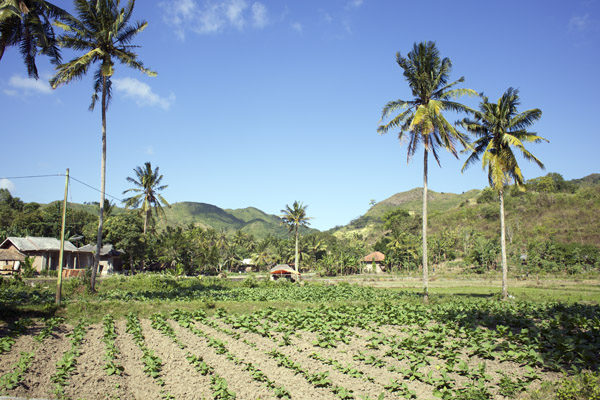 The two men followed me and removed large coconut knives from their belts while I struggled to figure out what was going on. I'd always felt so safe in Asia, so for this to be happening right now seemed like a faraway dream. The passenger quickly moved behind me, slicing the straps of my bag when I suddenly felt the weight of my possessions fall away. Usually I'm sensible when I travel; often leaving my passport and cards in a safe, carrying only a small amount of cash and usually having backup cash hidden in my bags. This day, however, I'd arrived and was so excited I had left that morning with everything. I turned to see my bag in his hands, realising that I was on a very remote island all alone, I became very frightened. 
I felt so angry seeing my things in his hands and that's when I punched him – one of the two guys holding a knife. I punched him in the chest.
I ripped my bag out of his hands, my camera fell to the ground in all the commotion and he cut me. There was blood everywhere and I was in such shock I couldn't figure out whether it was just coming from the cut on my hand or whether there was another, bigger wound. I started screaming "tolong" which is help in Indonesia, while accidentally smearing blood all over myself checking that I wasn't hurt worse somewhere else.
I couldn't believed I had been stabbed.
Then they just left. My camera was on the ground still, closer to where he'd been standing. All I can really remember is blood being everywhere. I tried to pick up my camera, but my hand was too sore and I just ended smearing blood all over it. There was no way that I could ride my scooter back along the dangerous and broken roads, so I started screaming out "tolong" again, when three locals came by on a scooter. One came over to me and although he spoke no English we somehow managed to coordinate wrapping my towel around my stab wound, packing up my bag and him driving me back to the medical centre in Kuta.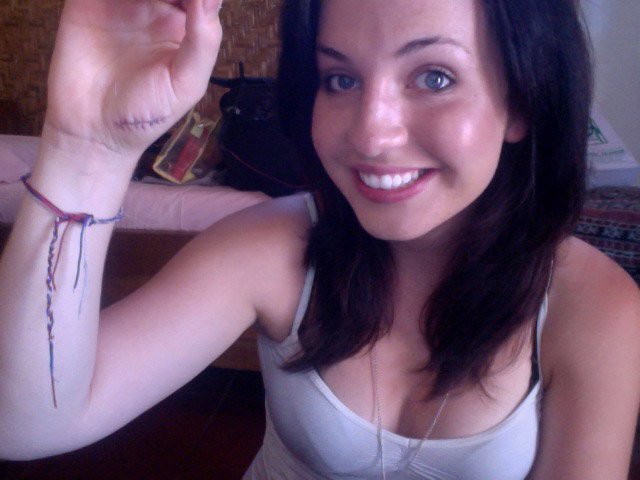 It took me a while to feel myself again, I spent a week in Ubud enjoying raw cacao, delicious food and taking things slow.  A day or two after the attack I decided this could have happened anywhere, even in my home town. I'm not angry with my attackers, I know that many locals earn as little as $40USD a month and so stealing a camera you could sell for a decent profit could be life changing. I have no idea what I'd do if I was battling poverty and had a family to support. I don't respect their actions, but I can understand the motivation.
Would I travel alone back to Kuta, Lombok? Honestly, probably not as I didn't really love it and it will stir up bad memories for me. But I still travel alone, I'm just sure to be a little more careful. I'm not worried about being stabbed again.