There are far more than 5 reasons to adore beautiful Venice but let's make a start with five. Venice is definitely a place that you should place high on any bucket list for visits in Italy and around the Adriatic Sea. Place it especially high if you love art, architecture, Italian food and culture.
Venice is a unique city in north eastern Italy and the capital of Veneto province. Venice's geography contributes greatly to its features historically, culturally and artistically and architecturally. The city is built across more than a hundred small islands in the shallow Venetian Lagoon at the estuary confluence of the Po and Piave rivers. These densely populated islands are linked together by bridges where practical, and serviced by water traffic when not.
You can arrive by car, bus, aeroplane or boat but once you are there you may have to try out a few novel ways of getting about. Venice is the type of place you can wake up one morning and just decide to take advantage of deals for last minute city breaks and the type of place that you will want to return to.
Getting Around Venice
Just getting around is a fun adventure. Good advice is to invest in a simple street map to help you negotiate the narrow medieval allies and canals. Being a pedestrian is as good as way as any to get around. By walking you will get to feel the vibe of the Venice, explore back alleys and stop to take photos at your leisure.
Otherwise there is an efficient water taxi service with boats called "vaporetti" to take you where bridges can't.  And of course for the romantic experience take at least one gondola ride, on a real water gondola. Not the ones you cram into on the way up the ski slopes.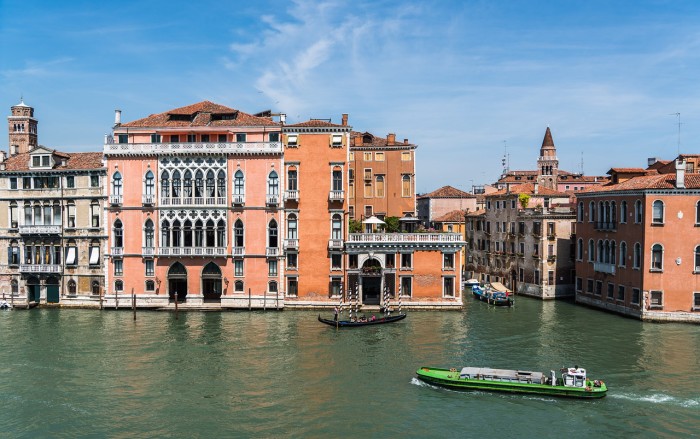 Venice Historically
People started to populate the islands just over 1500 years ago to escape those marauding and troublesome Visigoths, Huns and the likes from the north. Living surrounded by water meant they were essentially left alone to get on with fishing. Many of us would like the same today.
However because of its strategic place at the north of the Adriatic Venice developed and eventually came to prominence as a point of launch for the crusading Christians through the Middle Ages heading off to find the Holy Grail. I think Monty Python are the only ones who have come close to finding it. The City State of Venice also became a strong international finance centre as well as important trade centre for exotic goods from the East like silk, rice and spices. It was not by mistake that intrepid explorer Marco Polo set out on his travels from Venice in search of oriental delights.
Venice Architecturally
Because of its financial wealth, Venice had developed its unique architectural style by the 14th century from a mix of Byzantine and Arabic influences combined with Gothic features. Of special interest is the Gothic lancet pointed arch and the ornate tracery decorations that make Venice architecture so distinctive. There is a delicateness about the balconies and windows that defy the fact the buildings are made of stone. You feel light and airy about Venetian Gothic as opposed to dark and eerie about much other Gothic.
Essentially the whole of Venice is an architectural museum! A few of the most gorgeous examples include the Doge's Palace, the Ca' d'Oro, the Palazzo Bembo, Palazzo Giustinian and Palazzo Dandolo, to name but a few. Once you have been to Venice, you will realise that its influence has spread all over with buildings from New York, U.S.A. to Adelaide, Australia
Celebrate Venice Biennale!
Venice becomes the fitting focus for various biannual celebrations for art and architecture on alternating years. The Art Biennale will be held in 2017 while the Architectural Biennale is 2018 but you can visit the sites even when the biennale is finished.  Artists and designers get to showcase their thoughts for the future in expos and pavilions where up to half a million people attend the exhibitions. There are contributions from all over the world, from over 60 countries.
Venice Art Masters
Venice is art, in its architecture and its priceless artworks that are exhibited or stored there. Venice itself has been the subject of, and inspiration for, many artworks by artists such as Turner, Guardi, and Canaletto. Great painters have influenced the world and changed aspects of art forever with their novel perception of light, colour and space – artists like Bellini, Tiziano, Tintoretto, Tiepolo and Veronese.
There are far too many galleries and museums to mention all but do you research before you visit to see the works that most interest you. Check out these for a good start – Gallerie dell'Accademia, Museo Correr, Peggy Guggenheim Collection and Original Murano Glass.
And here are a Few more Reasons to visit Venice
I should mention Venice is also a UNESCO World Heritage site for good reason.  I haven't even begun to talk about the delicious Italian food and wine you will find in Venice, or the best places to stay. However I hope I have tempted to you to check out more about Venice and plan a visit soon. I'm sure you will not be disappointed.