If you haven't heard of Yonderbound, you're missing out. I love to hear about new types of travel planning sites and apps because I spend basically all of my free time in a state of trip planning. It drives me crazy!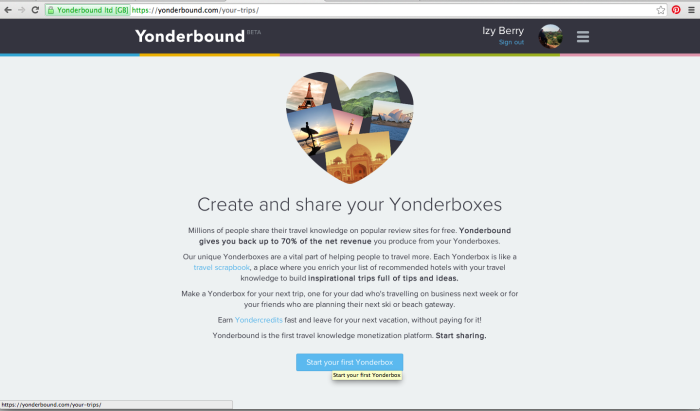 Innovative, Easy and Resourceful Trip Planning
Sometimes I find myself finding so many options for hotel rooms, having nowhere to save and organise them that I end up emailing them to myself, only to never look at the emails again. Then when I'm actually committed to booking my hotel, I have to start from the beginning again.
With Yonderbound you can save hotels you like, share them with family, add notes – which is a really helpful feature as you can add notes as to why you wanted to stay there – and make direct bookings. It's like a trip planner, scrap book and booking site all wrapped into one tidy package. You can also get paid if people use your tips and Yonderboxes to book things themselves – a whopping 70% of the net profit is given back to you in the form of Yondercredits which you can then use to redeem on your own travel.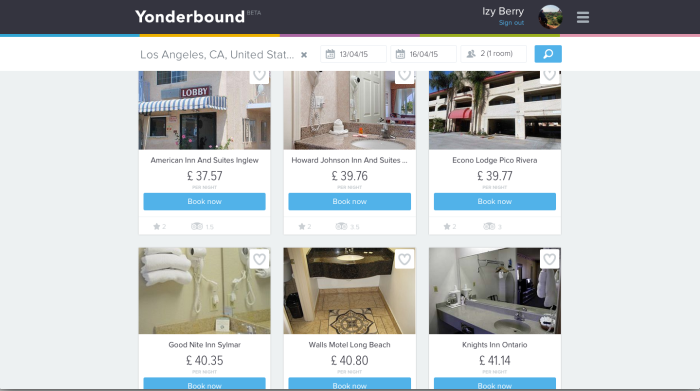 Why I LOVE Yonderbound
As someone who's constantly on the road, living out of suitcases and hotels, I wouldn't say that organisation is my strong suit. I've lost countless things on this trip, including clothes, and I have no idea where I left them. I feel like my online life is almost as disorganised with lots of open tabs, random hotels I find and can't remember and just general chaos. I know that Yonderbound will give me the option to easily save hotel ideas and keep my travel plans condensed so I can share it with friends or family.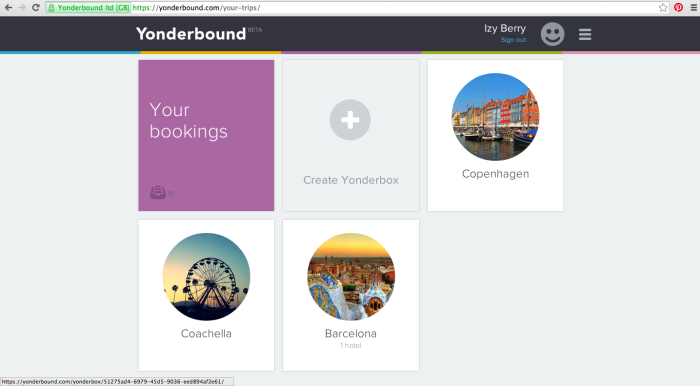 All Inclusive Prices
I can't tell you the number of times I've been on a website and felt like I was getting an incredible deal on a hotel, only to click through a few pages to have numerous charges added to my bill. When this happens, often it pushes the price of the hotel above my budget and I'm back to the beginning. With Yonderbound the prices are all inclusive so what you see is what you're paying. Each week this will save me considerable time in the planning stages, allowing my bookings to be easily organised from the beginning.
It's a Visual Site
I created three Yonderboxes for my confirmed upcoming travels to Coachella, Copenhagen and Barcelona. I love that you can add a pretty cover image to your Yonderbox – it really gets me excited about the places I'm going to. You can see all your bookings through Yonderbound in one place which will help keep bookings properly organised. It's simple, clean, but has everything you need.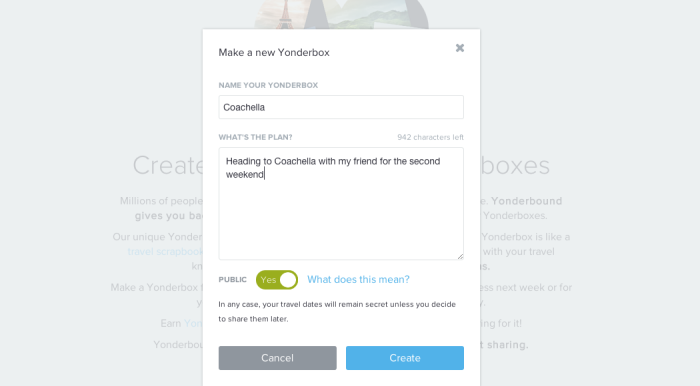 If you're planning a trip sometime in the future why not sign up for Yonderbound (it takes about 10 seconds to sign up) and explore Yonderboxes. Who knows, you might even make some Yondercredits along the way that you can use for your own travel.
In collaboration with Yonderbound