Stratford upon Avon is a fantastic base for your Warwickshire self-catering experience with loads to see and do. This vibrant town – widely regarded as Warwickshire's main tourist magnet over its nearby neighbour and county town Warwick – has lots to attract and entertain the discerning holiday maker.
One of the town's main draws is of course its Shakespeare Houses; with the wonderfully restored Shakespeare's Birthplace, Halls Croft; home of Shakespeare's daughter Susanna and the recently renovated and reopened New Place; Shakespeare's final home for 19 years and the place of his death in 1616. In the nearby villages of Shottery and Wilmcote lie the much visited former home of Shakespeare's wife, Anne Hathaway's Cottage and Mary Arden's Farm, the former home of Shakespeare's mother.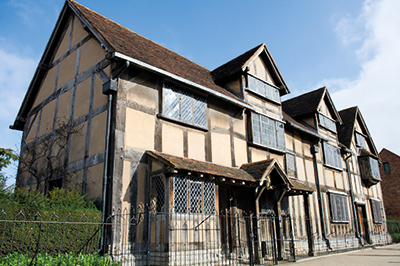 Stratford upon Avon boasts a fine selection of self-catering holiday accommodation; from quaint timbered cottages with low beams, to open plan contemporary houses that sit side by side with the town's many historic buildings. If town centre accommodation isn't your style, then why not book a break in one of the charming villages flanking the town including Binton, Tiddington and Clifford Chambers?
The streets of Stratford offer a captivating mix of independent shops, bars, cafés and restaurants, interspersed by a handful of busy souvenir shops. Popular visitor attractions include the Falstaff Experience, The MAD (mechanically aided design) Museum, Tudor World and Stratford Butterfly Farm, whilst there is a great selection of boats trips available on the River Avon that runs adjacent to the town centre.
Making the most of your time in Stratford upon Avon need not involve spending lots of money as the town offers relaxing riverside walks, with free walking tours around the town's historic quarter, and many of the town's major attractions including Holy Trinity Church (where Shakespeare is buried), the lobby of the Royal Shakespeare Theatre and the town's scenic Jubilee Gardens can be accessed without charge, offering wonderful photo opportunities at every turn.
Thank you to Exclusively Warwickshire for this insight. For all your Stratford Upon Avon holiday cottages needs please visit: http://exclusivelyuk.co.uk/self-catering-holiday-cottages-stratford-upon-avon/