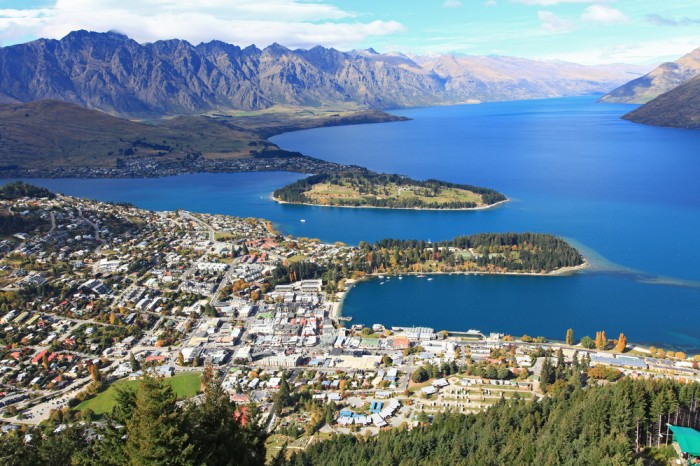 Queenstown is one of the biggest tourist hot spots in New Zealand and is definitely worth a visit. It's often thought of, at least by New Zealanders, as the "adventure capital" of the world. This is where bungy jumping started out and here you can jump out of a plane, off a bridge, or get in a boat that's going at crazy speeds – whatever extreme sport you fancy. 
Costs in Queenstown
Queenstown is expensive for New Zealand, and if you want to enjoy it I think it's best to bring a pretty cushiony budget along with you.  If you want to do any extreme sports, you're looking at least $100 and sometimes well upwards. It's worth it though. 
Accommodation in Queenstown is above the national price, but it is a great place to splash out with a number of luxury and high-end hotels. If you want to stay somewhere special you could consider staying where I did, at the best hotel in Queenstown.  If you're looking for somewhere cheaper, hostels are a great place to look and there are a number of quirky hostels around the city starting at around $20.00. If you're traveling with two or more people looking into apartments can be a great way to keep costs down while enjoying Queenstown. Arrowtown is a quaint little town not too far away that is lovely to stroll around and has slightly more affordable accommodation. 
Food in Queenstown tends to be around the standard price point for New Zealand. My favourite places to eat in Queenstown are Winnie Bageos – delicious pizza and Ferg Burger. Both establishments are well known throughout New Zealand for offering hearty and delicious meals. 
Transport in Queenstown is a little scarce, but it doesn't really matter because Queenstown is easily explored on foot because it is quite compact. It is a great place to have a car though, because you can go off and explore some of the numerous walking and biking trails around. There are a number of buses that service Queenstown and taxis are easily found. 

Things to do in Queenstown: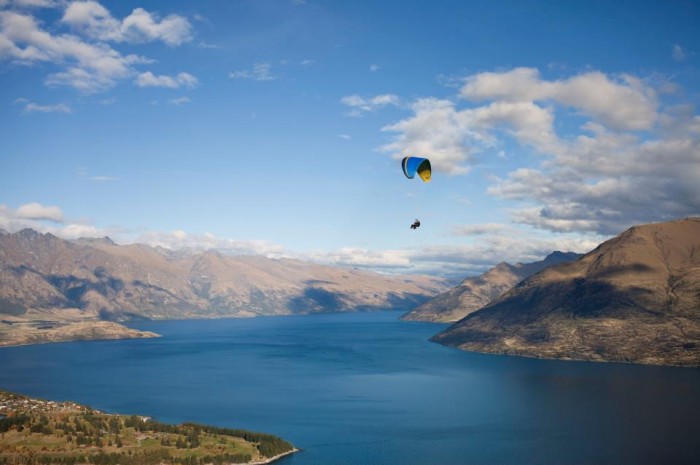 Go up the Gondola: 
Yes, there are Gondolas all around the world, but few can deliver such striking views. I was completely in awe the whole way up the gondola, except for a few moments where I decided to worry it was natural for me to be up so high. Thankfully, there's a large (sturdy) viewing platform up the top so you can spend some time enjoying the view. 
Luge: 
I guess I'm still a child, but luging has to be one of the most fun things I've done in a long time. It's a little distracting, though, as it's perched on top of the gondola's viewing platform, so you're spoiled with incredible views while you twist and turn down the luge track. Buy five rides, it is expensive but so worth it!
Bungy jumping: 
I'd love to post photos of me being super brave jumping off a bridge, but I can't – because I'm not crazy and I quite fancy being alive. Although bungys are very safe, my fear of heights and/or water prevents me from enjoying this. It's totally worth it though, if you are an adrenalin junky. Look on Bookme.co.nz for earlybird discounts.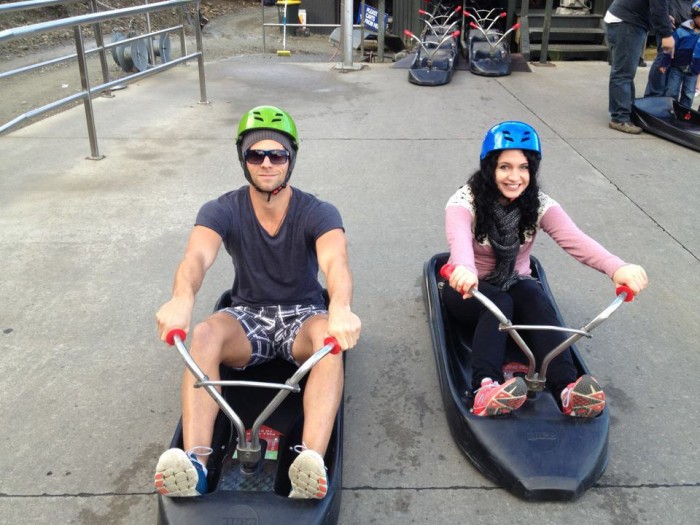 Visit an icebar:
I managed to avoid icebars in every main city I've been that's housed them, I expected them to be tacky and absolutely freezing – and they are – but they're kind of novel too. My favourite part of visiting the ice bar was smashing my glass on the way out and admiring the ridiculous ice sculptures. 
Go Jetboating:
Do you like traveling at crazy speeds on water, while it's being thrust up around the sides of the boat? Do you love adrenalin? Well, then you should definitely do some jetboating in Queenstown. Unfortunately it was a bit too chilly when I visited, but my friends have been and say it's absolutely amazing and it's kind of considered one of the token things to do in this adventure town!
That's my round up of Queenstown. 
Have you been before? What was your favourite thing to do there?