I would like to thank Izy for publishing this article. Her site is a brilliant and inspiring resource for all aspiring travelers and a great place for anyone looking for truly helpful tips and tricks for living nomadically. After you've read this, be sure to check out her post on making money whilst traveling.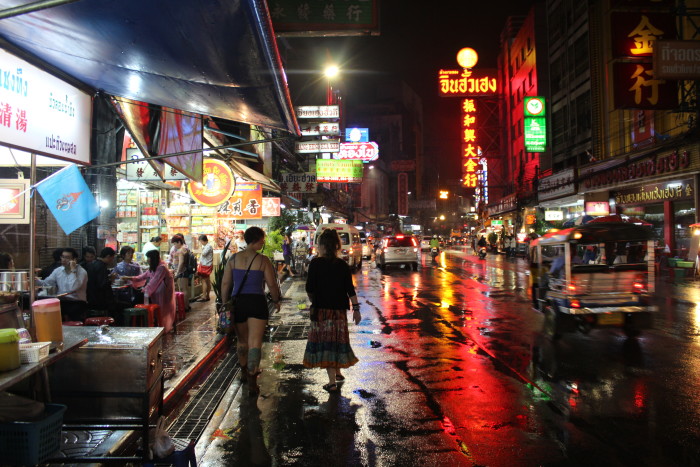 Living in Bangkok, especially when coming from the west like I did, is like moving to another world. However, like many who've experienced the magic and joy of this enchanting and vibrant city, once you've settled in, you find that the real culture shock occurs whenever you head back home.
On the surface, brimming with life and overflowing with people, this Thai capital can seem a bit overwhelming, but once you've actually had chance to open your eyes and have a real look around, Bangkok is a spectacular city and a fantastic place to live and has much more on offer than the typical tourist circuit would have you believe.
Noodles, Noodles and More Noodles!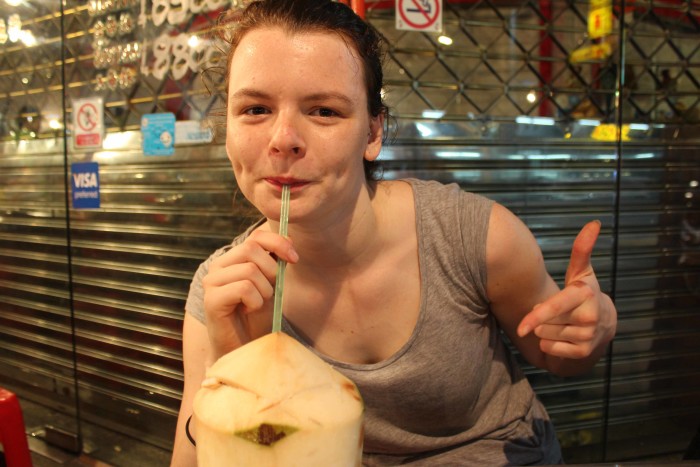 One of my favorite things about living in Bangkok is by far the food; never before did I realize there were so many delicious ways to prepare noodles. After finally getting over the addiction for Pad Thai that I developed when I first landed, I realized there was a plethora of dishes that go largely under the radar. Try Tom Yam Goong, a rich, aromatic seafood soup, flavored with lemongrass and lime leaves. Or local favorite Moo Ping, which translates as grilled pork, from the Moo Ping Hea Owen stall, which has been around since 1983 and currently resides in Siam Paragon food court.
In terms of where to eat, finding the best places, instead of the ones that are guaranteed to give you food poisoning, is an art that you learn over time. However, after my first night eating in Chinatown—and the horrendous day that followed—I quickly set a few guidelines: always aim for busy restaurants or vendors (the more locals, the better) and places where you can watch them cook the food from fresh are always preferable to carts that have big portions of ready made dishes. After being in the city for a while however, I decided to take my diet into my own hands, attended a Thai cooking class and started cooking the majority of my food from home!
Getting Around
There's definitely a scale of zero to tourist when it comes to public transport in Bangkok. The tuk-tuks, although a lot of fun, definitely rank on the tourist side of this scale as they are usually extremely overpriced and will take you extended routes to increase the cost of the journey. After my first ride in one, I decided that the novelty definitely wears of quickly and, thereafter, stuck with the cheaper, more practical ways of getting around. The next step down is regular taxis, they're less exciting, but much more reasonably priced.
However, by far my favorite way to traverse the city—and also the most popular with the locals—is by river taxi. After being ripped off a few times by the express boat line, I quickly learned that the slower river taxis—which are recognized by their lack of any flag—are the best way to go! Incredibly cheap, the only real difference from the tourist-centered express line is that they stop at a few more places down the river.  However, all this means is that you have more time to enjoy the beautiful banks of the Chao Phraya river and drift along this busy waterway that acts as one of the main transportation routes for the city.

Living Arrangements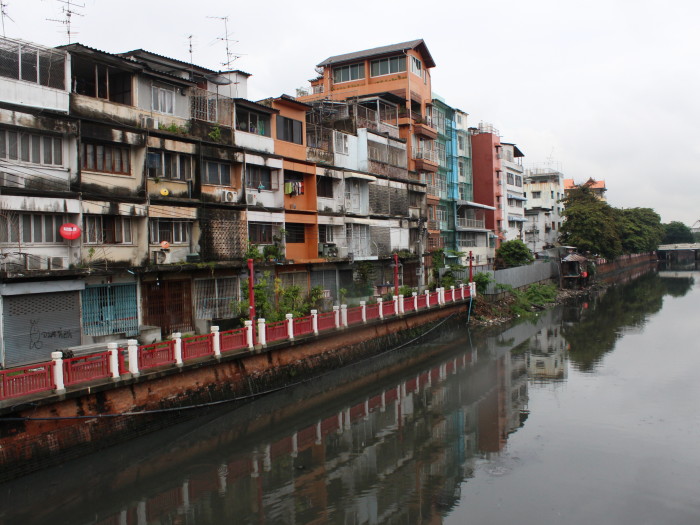 Like most, when first arriving in Bangkok, I ended up staying in a hostel on the somewhat mesmerizing, somewhat terrifying, Koh San Road. Although this is a great place to throw yourself into the midst of Thai tourism culture head first, it's definitely not somewhere you want to spend a long period of time, so I quickly started looking for more permanent accommodation elsewhere. After doing a quick bit of research, I discovered that most inner-city expats live in downtown Bangkok, primarily in Silom, Sathorn and Sukhumvit, which are all easily reachable by the Bangkok Sky Train.
Although all of these areas are rich with great restaurants, bars and things to do, I chose the former of the three. This was due to it's proximity to the river, the Bang Khu Wiang floating market and one of my favorite restaurants in the whole of the city—and the place where I took the aforementioned cooking class—The Blue Elephant. The apartment was a good size for the price and equipped with all the necessities, such as running water and WiFi (essential for me as I work online). However, for anyone trying to access the internet when abroad, make sure you have a Virtual Private Network (VPN) installed as many sites block content when you're overseas—as I learned the hard way!

Avoiding the Tourists

After spending long periods of time in this amazing city, following the same tourist circuits and being herded with crowds of foreigners becomes old news fast. Sure, there are a lot of culturally amazing things to see in Bangkok, and it's definitely well worth checking out all the famous landmarks, temples and markets, but you only have to do the rounds of these things once or twice before you realize that the locals have a much better idea of how to have fun!
For nightlife, head away from Koh San Road and the cringe-worthy Ping-Pong shows and tourist bars and check out my favorite place to drink, Cheap Charlies, in Sukhimvit Soi 11. Cheap Charlies is an expat hotspot and a great place to meet others who are living full time in the city.
Similarly, Thor Lor is one of the most popular local bars and has live local music on regularly. If your looking for places to pick up food or clothes, avoid the tourist traps of Chinatown and Pratunam and instead aim for Klong Toey fresh food market and Saphan Phut, which is a night market that's only really frequented by locals and a great place to absorb the best of Thai youth culture.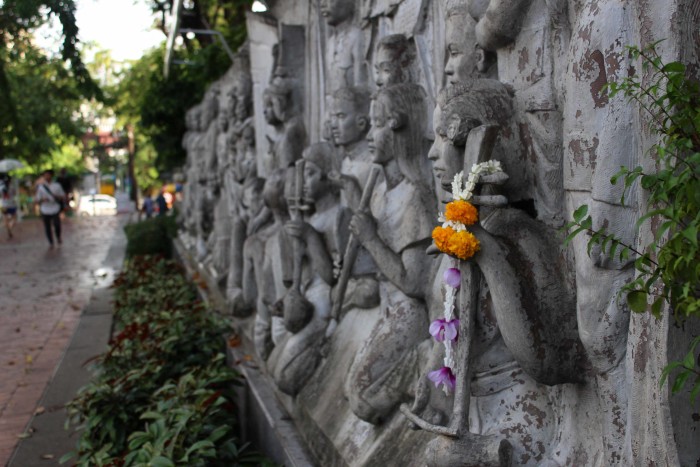 The Politics of It All….
You can't live in Bangkok, or Thailand at all, without at least being somewhat aware of the political situation. When I first moved there, I was, as shameful as it is to say it, alarmingly ignorant. Aside from knowing that democracy wasn't as secured over here as it is in the west, I had no idea the hardships that this country had gone through.
Over the years, there has been a constant power battle between democratically elected governments and military rule. This began in 1991 when a brief period of militarization overthrew the previously elected prime minister; however, by 1992, democracy had returned. Thai Rak Thai then ruled the country, with relative support from the people, until 2006 where allegations of corruptions led to another military coup. This was replaced by a civilian government in 2007 before being overthrown by the military yet again in 2014.
Since then democracy has not been restored, and as a result, protests and bombings have become somewhat regular occurrences, particularly in the capital. Although this political unrest is important to know about if you plan to settle here, never in the whole time I was an expat in Bangkok did I have any problems as a result, so it's definitely not a major concern.
This was just my experience of living in this amazing capital, but I'm sure for every expat who lives there there are a million different pieces of advice they'd give you for how to make the most out of your time. If you're currently or have ever been a resident of Bangkok, be sure to comment below with any advice or tips about your experience there!